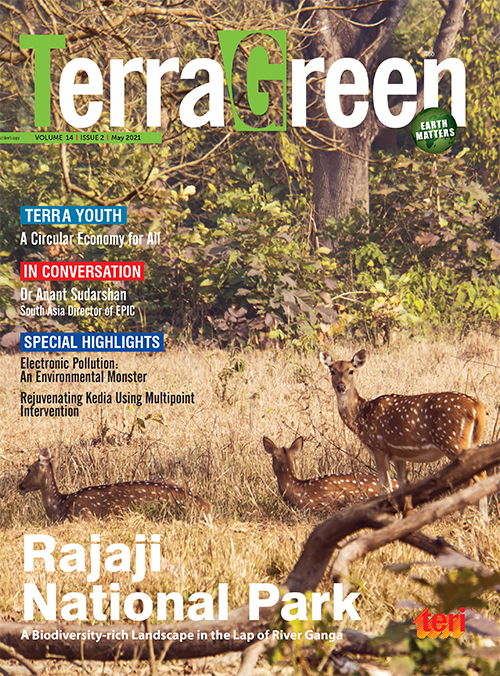 New
TerraGreen (a monthly magazine on environmental issues)
Frequency:

12 issues a year

ISSN:

0974-5688
Magazines Details
TerraGreen is TERI's flagship magazine that deals with issues related to sustainable development, environment, and energy. In a world standing on the brink of a major ecological disaster, TG hopes to be the ray of light that lights up the road ahead.
In this month's cover story, 'Rajaji National Park' the authors say that Rajaji National Park is a magnificent ecosystem nestled in the Shivalik range and the beginning of the vast Indo-Gangetic Plains, representing rich floral and faunal diversity. On the occasion of International Day for Biological Diversity (May 22), the authors have expressed their views about the wilderness and biodiversity of the Rajaji's landscape, which is also a haven for Asian elephants.
In this month's feature story, 'Electric Pollution' the author talks about the monster called electronic pollution, which has been digging its toxic claws throughout Planet Earth and feeding off its energy more rapidly than the mind can imagine. Ironically, not many know about electronic pollution, which poses a major challenge to the environment. What makes it even more detrimental for the environment is that it significantly contributes to all the other forms of pollution.
In this month's special report, 'Rejuvenating Kedia' the author highlights that although the Ganga–Yamuna doab is known to be the most fertile region of India, one is persistently struck at the impoverishment among agriculturists here. Delving into the problem some years ago, Greenpeace activists decided to look into the dynamics that lie at the root of it.
Keywords

Press releases
TERI launches ' TerraGreen '

More