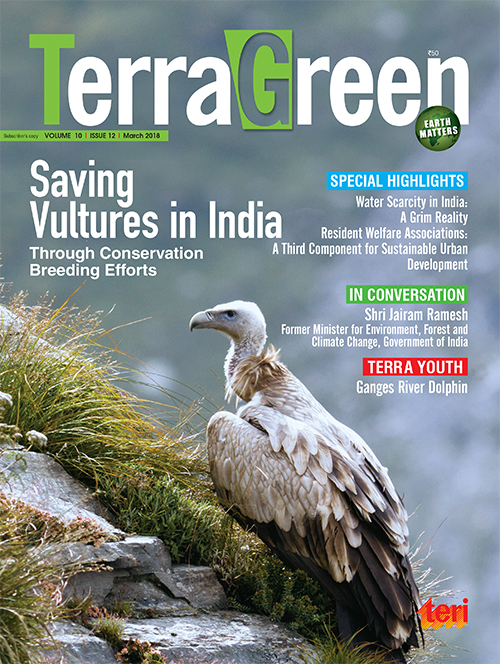 New
TerraGreen (TERI's flagship monthly magazine on Environmental issues)
Frequency:

12 issues a year

ISSN:

0974-5688
Magazines Details
TerraGreen is TERI's flagship magazine that deals with issues related to sustainable development, environment, and energy. In a world standing on the brink of a major ecological disaster, TG hopes to be the ray of light that lights up the road ahead.
In the cover story titled, 'Saving Vultures in India through Conservation Breeding Efforts ', the author highlights that due to the unprecedented scale and speed of decline in vulture population, all the three Gyps vulture species have become critically endangered. In order to ensure survival, it is necessary to bring them into captivity for breeding. The author discusses the efforts that are currently underway in India for conservation of vultures. While the Bombay Natural History Society (BNHS) has been working for vultures since the 1980s, it has a major role in the conservation breeding of vultures in India.
In the special report titled, 'Resident Welfare Associations: As a Third Component for Sustainable Urban Development', the author has suggested a six-point formula for sustainable development and maintenance of urban environment, with a coordinated approach between resident welfare associations (RWAs), municipal corporations, pollution control boards, and CSR schemes of major industries. This plan may not be completely feasible for already overgrown cities, but is more suitable for smaller cities and it can be even made mandatory for the smart cities that are being planned by the Government of India.
The feature article titled, 'Water Scarcity in India: A Grim Reality' highlights that World Water Day, on March 22 every year, is about focussing attention on the importance of water. The theme for World Water Day 2018 is 'Nature for Water'—exploring nature-based solutions to the water challenges we face in the 21st century. In this article, the author points out the distressing scenario of water scarcity in India as rapid urbanization and industrialization is expected to take a toll on the water availability in India in the future. He also discusses initiatives by the government and corporate companies for water conservation.
Keywords

Press releases
TERI launches ' TerraGreen '

More