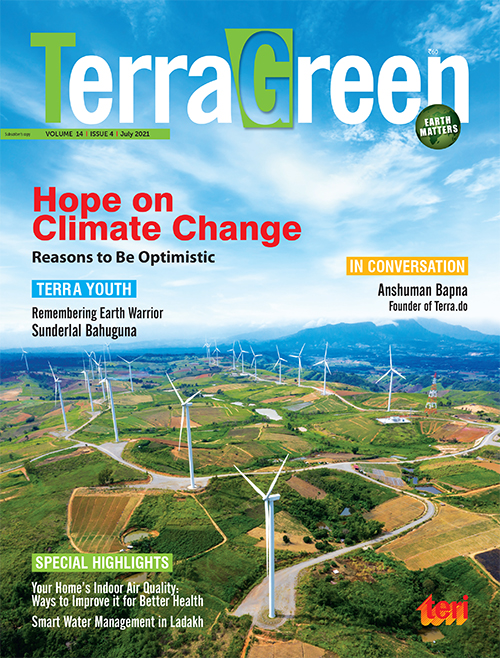 New
TerraGreen (a monthly magazine on environmental issues)
Frequency:

12 issues a year

ISSN:

0974-5688
Magazines Details
TerraGreen is TERI's flagship magazine that deals with issues related to sustainable development, environment, and energy. In a world standing on the brink of a major ecological disaster, TG hopes to be the ray of light that lights up the road ahead.
The cover story titled, 'Hope on Climate Change', says that the recent developments in the sphere of minimizing the impacts of climate change give cause for optimism for the first time as the President of the USA has brought the USA back into the Paris Agreement and is providing leadership for a net carbon neutral global economy. India could set an example in the deployment of renewable energy installations as it is already leading the way with the dramatic increase in renewable energy generation in the last decade.
In the Feature article titled, 'Your Home's Indoor Air Quality' the author says that the air in our homes could be at times much dirtier than the air outside, and it can also make us sick. She presents different ways of improving the indoor air quality. Although she has presented it from an American perspective, but we in India could also do well with her experience and useful tips.
In the Special Report titled, 'Smart Water Management in Ladakh' the authors discuss smart water management in high elevation villages in Ladakh to transform them into a vibrant land-based economy with diversity of crops grown. They have compiled this article based on the work done by them under the project, 'Solar technology for post-harvest processes and sustainable agriculture for income enhancement of tribal communities living in Cold Desert Region of Ladakh, Kargil', the Ministry of Environment, Forest and Climate Change, Government of India.
Keywords

Press releases
TERI launches ' TerraGreen '

More